Mouvent – a new company founded by a joint venture between Bobst and Radex and focused exclusively on digital print using pioneering digital technology – has revealed the technology behind its range of innovative digital printers. The Mouvent™ Cluster is a new approach, which uses clusters instead of fixed size print bars by colour, arranging them in a modular, scalable matrix. The result is one system that can be simply adapted for all substrates, of all widths, for all markets.
"This is game-changing technology," said Piero Pierantozzi, Co-founder of Mouvent. "Until now, printing systems have been tailor-made to the requirements of each industry. The cluster technology is completely flexible and can be adapted and used for any market and any substrate. We believe this will completely revolutionize digital printing, making it more accessible, more flexible, cheaper and simpler, while maintaining the highest quality standards."
The cluster technology was developed by Radex, a start-up company owned by multiple stakeholders with a long track record in the field of DOD inkjet digital printing. Radex and Bobst created Mouvent as a joint venture in June 2017. The cluster technology is the centerpiece of new machines developed by Mouvent for a wide variety of markets such as textile, labels, corrugated board, flexible packaging, folding carton and more.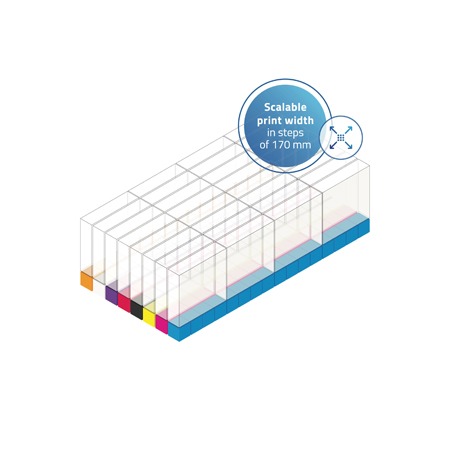 Mouvent has already revealed some of their machines including the 8-color digital textile printing machine TX801. It is associated with the highest print resolution of up to 2000 dpi with an output of up to 200 sqm/h, at low cost per square meter produced. In multi-pass machines like the TX801, the cluster moves across the up-to-1800 mm wide substrate at 100 m/min and can apply up to 16 g/sqm of ink, with one colour per print head and up to 8 colours per cluster.
Each Mouvent™ Cluster prints up to 170 mm wide. Additional clusters can be added (so two clusters is 340mm wide and so on) in theory without any limit. Therefore, whatever the substrate width, the technology can be adapted accordingly. With 10,000 operating hours, the life cycle of the cluster is extremely long. What's more, they are very light in weight, at around 1.8kg, and can be easily replaced.
Beyond their digital printing presses, Mouvent offers a fully integrated, complete solution – it develops, engineers, tests and industrialises digital printers based on the Mouvent™ Cluster, it writes the software around the printers, develops inks and coatings for various substrates, as well as providing a full servicing offering. The company is promising a new standard in inkjet label production cost and quality, in ink pricing, head durability, quality and machine performance.
"By using the same clusters, the same software, the same spare parts and the same ink systems for all machines, we can design them as simple and compact as possible while keeping operating costs for our customers at a minimum and predictable," said Piero Pierantozzi. "Simplicity is our engineering philosophy."