No moss gathers under this company or its third generation owner and CEO, John Kelley. Located in the shadow of Disney World in Orlando, Fla., the independent corrugated manufacturer was recently named one of the top 50 fastest growing companies in Central Florida by the Orlando Business Journal. Florida Governor Rick Scott was scheduled to visit on June 16 to announce the state's monthly employment data.
In May, Dusobox invited customers, prospective customers, industry representatives, suppliers and local business leaders to an Open House to show off the new facility. "It's all about getting our name out," Kelley says. "This is not your average box plant." Indeed, the company is a showcase of cutting-edge technology, idea inspiring workspaces and truly innovative workflow and eye-popping decor.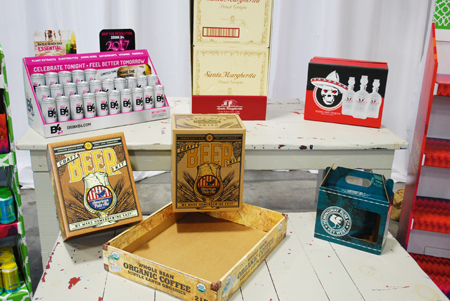 The layout was designed for high quality, quick turnaround and continued growth. Kelley says the level of execution and productivity compared to the older facility is like night and day. "In the other building I had one door and four docks and everything had to come in and out of that one door. I now receive from six doors and ship from 10. And it's a planned flow as opposed to just squeezing in a machine where there was room. The material flow in this building is incredibly well thought out."
The sales and design offices are open spaces with plenty of seating and work tables conducive to creative thinking. Dusobox has five designers. "The whole vision is highly collaborative," Kelley says. "I didn't want everyone hiding behind emails and computer screens. In the digital world, it all has to happen fast."
Digital Showplace
Digital technology has transformed this traditional corrugated facility into what Kelley likes to refer to as the box plant of the future. While Dusobox continues to satisfy its commitment to customers wanting brown box and multi-color post-print flexography, the real eye-popping area is the enclosed, temperature controlled room next to the analog equipment.
Walking through the doorway is like stepping into another world. The space is dedicated to digital printing and cutting. On the floor are an HP Scitex 15500 digital press and two Esko Kongsberg C64 tables with I-BF60 feeders. There is also a "Printing experience area" where customers can meet with Dusobox representatives and compare the different printing technologies.
The walls are covered with designs that were digitally printed on HP latex machines. "We can refresh this as much as we want. It's permanent until we want to change it," Kelley says. The designs, some of which have a three-dimensional look, were created by Dusobox's art department. On one wall is a cheetah with piercing green eyes that follow you as you walk around and on another wall is a nod to the company's major suppliers, including HP, Göpfert, Esko and Bobst.
Kelley says he wanted the transition from the traditional production area to the digital space to be "highly impactful." Based on the comments from some of the guests, he achieved his goal. Representatives from integrated and supplier companies all gave glowing reviews using words like, "Amazing," "Incredible" and "Wow."
"This is what the growth of Florida looks like – it's not tourism, it's companies like Dusobox," said Genean Hawkins McKinnon, President of McKinnon Associates, Inc., a strategic consulting firm.
Next year Dusobox will be installing the recently-announced HP C500 digital press. Kelley already has a spot for it next to the five-color Göpfert Evolution high board line rotary diecutter. The C500 is a production machine that does not need climate-controlled seclusion. It can print 2500 sheets an hour compared to the 15500, which prints 130 sheets an hour.
Zero Defect
Dusobox offers flexo, digital and litho-lam products for a wide variety of industries. The plant runs as much as 21 million sq ft of board a month. "Ninety five percent of what we do is diecut, printed, laminated, folded and glued. We're not the typical sheet plant," Kelley says.
Kelley views digital and analog processes as complementary with each playing an important role in the corrugated industry. "In 15 years I don't know if that will still be the case, but certainly it will be in the next 10. That's part of the reason why I only invested in five-color for the Göpfert, knowing what we're going to do in digital," he says.