Showcasing the magnitude of its digital printing and finishing capabilities, The BoxMaker hosted a Packaging Experience (PX) Summit to educate customers about the benefits of digital. The March 19-20 Summit went well beyond a normal 'Learn-and-Lunch' program and included two days of speaker presentations, panel discussions, single topic breakout sessions and a tour of The BoxMaker's digital production site in Seattle, Wash. More than 200 people, including clients, prospects and industry peers, attended.
This was the second year for the Summit, according to Richard Brown, President of The BoxMaker. "The purpose of PX Summit is to provide an education on how to employ today's leading digital production technologies to connect with consumers and brands," he said.
Richard Brown, President of The BoxMaker, welcomes attendees to the Packaging Experience Summit.
The BoxMaker is a true pioneer in digital, beginning in 2011 with the installation of an HP Scitex FB700 printer. Today, the company is one of North America's highest capacity production centers for digital. Its 30,000-sq-ft digital operation, located just down the street from its larger box manufacturing facility, includes an HP PageWide C500 single pass digital production press, the first on the West Coast, HP Scitex 15500 and 17000 multi-pass printers, an HP Indigo WS6800 for labels and folding cartons, and Zund and Esko Kongsberg cutting tables. The newest Zund table has one of the first automated board handling systems in the world, enabling lights out operation.
To augment its digital printing business, The BoxMaker in 2017 launched Fantastapack (www.fantastapack.com), a web-to-print platform for digitally printed packaging solutions.
"We've seen many clients benefit from digital packaging. They've eliminated inventory and obsolescence from their supply chain, they've engaged in version marketing and connected with personalized gift packaging," Brown said. "Packaging has become a vehicle for cross promotion, a traveling billboard for advertising and even a tech-enabled marvel all because of the power of digital. These capabilities are now available at offset print quality, safe and sustainable inks and the capacity to address any size order. It's time for every brand to take flight with digital."
Scaled Graphic Solutions
The PX Summit agenda included keynote presentations by Ted Samotis, VP of National Graphics, Georgia-Pacific, Mike Ferrari, Founder/Principle, Ferrari Innovation Solutions, and Doris Brown-McNally, Global Brands Innovation Manager, HP, Inc. The nine breakout sessions addressed a wide range of topics, from prototyping, labels & flexible packaging, and product protection to water-based digital inks and personalization.
Samotis, who was involved in the scale up of GP's Hummingbird digital packaging solutions business in Cincinnati, Ohio, addressed the supply chain benefits of digital print production. With an HP PageWide Web Press T400S, Hummingbird is the first packaging supplier in North America to provide 110-inch wide web capability for digital pre-print at lengths limited only by converting capability.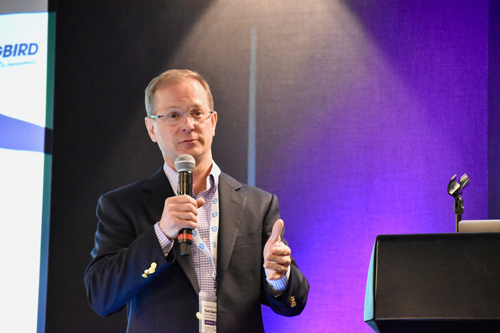 Ted Samotis, VP of National Graphics, Georgia-Pacific
"Digital print production is no longer for just promotions or small quantities," Samotis said. "This is for every piece of white corrugated packaging. From my perspective, if it's white, you've already made a conscious decision to pay more for that box so you've made a conscious decision to decorate that box. Inkjet digital water-based using HP technology is for scaled graphic corrugated packaging."
He referenced the benefits of digital, such as shorter lead times ("days, not weeks"), ease of managing SKU proliferation, personalization, no order quantity restraints, and low initiation costs and speed to market.
Another benefit is the simplified proofing process. Hummingbird customers are provided with a print sample right off the press. "So you're not getting a proof, you're getting an actual production sample," Samotis said, adding that pre-press takes only a couple of days due to Hummingbird's investment in automation.
Ferrari encouraged the packaging buyers in the room to revisit their business plans. "There is an opportunity for you to go beyond the brown box because we're no longer in the time when corrugated is just made for shipping. It's needed more than ever before to create that experiential moment," he said.
He advised testing out this new digital opportunity with a small project. "The mantra I've always lived by is 'Test a little, learn a lot.' Make some samples or try it in a focus group or test markets," he said.
Brand Success
The BoxMaker provides digitally printed labels and corrugated retail displays and packaging to three local craft breweries that participated in a "Brand Success" panel discussion. Caleb Blatz, Graphic Designer of 2 Towns Ciderhouse, said his original perception of digital was that the print quality was lower resolution, however, he was excited to be proven wrong. "I was stoked with the results and the turnaround time," he said.
Adam Ransavage, Brand and Merch Coordinator, Iron Horse Brewery, said digital supports his company's satirical voice. "We do a lot of micro-experiences so if you read the fine print on our case display there is this fine print that makes fun of the store we're in just because no one else is doing it. Digital is great for that voice and pushing that forward," he said.
Blatz said digital "gives us a leg up in agility and the capability to decide last minute that we want to do one thing over another. We can get something in the market very quickly and we don't have to order thousands."
A second "Brand Success" panel featured John Simpson, Vice President of Seattle Gourmet Foods, John Taliercio, CEO, Global Custom Source, and Justin Stacey, Fantastapack.com's Director of Innovation & New Business.
Simpson said digital printing keeps his company nimble. If a large format retailer like Costco suddenly requests a change, Seattle Gourmet Foods can react quickly. "In today's digital space my sales guy can say, 'Don't get stuck on the box. It's a digital mock-up that we had made yesterday. We'll get you a new one tomorrow.
"The lifecycle of products is so short these days," he said. "We know that the investment in plates and dies has got to be amortized over the first order because it's probably not a next year idea, no matter how successful the product is. In today's world, success isn't necessarily measured in sell-through. It's measured in 'Look at how different my set looks now. Look at how exciting these new products are.' They're the same products, they just have different packaging."
With digital, the term "corrugated media" is now relevant, Taliercio said. "It's amazing, we're talking about boxes." He said 3D design renderings that showcase the box are going to get a marketing department's attention. "Sometimes you just have to show them the box. Show them the magic. That's why something like this digital investment is fantastic. If someone gives you an awful design, don't print it. Let them know it sucks and help them see what it could be. The box is as much as much a part of the product as anything else."
Stacey said it can be difficult as a manufacturer to sell digital print because many traditional ordering channels and perceptions still prevail. "With digital print it's not necessarily going to be the cheaper option. What we try to do is get into the marketing departments more often than the procurement departments so it's a different conversation."
He said the marketing department's focus is to increase sales and digital printing provides that ability through campaigns that will yield measureable results. "For the sales reps in our organization, we spend a lot of time developing their skills in communicating with the marketing teams because that's really where the value of digital print is going to be perceived."
Spot-on Color
The panel members talked about digital print's color consistency and print quality. "We want people to look at our brands from 10 feet and recognize them so color is important to us," Simpson said. "In the old days you were parked inside your print shop doing a press check for half a day. In today's world we pick all our colors out of the digital color palette, and we know they will nail that color from the first board to the last board. We don't every pull out a Pantone book anymore."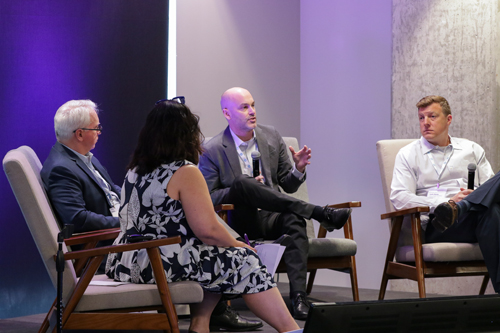 The "Brand Success" panel, from left, moderator Linda Casey, Editor of BXP magazine, John Simpson of Seattle Gourmet Foods, John Taliercio of Global Custom Source, and Justin Stacey, Fantastapack.com's Director of Innovation & New Business.
Simpson joked that even though he was "the old guy in the room," he was sold on digital. "Nothing is written in stone with digital. Pick that color, it will be that color. If that package doesn't work, don't sweat it; we'll change the art. Digital gives you so much more flexibility and I don't' have a warehouse full of stuff that didn't work."
Stacey said a G7 certified printer can handle 70% or better of the PMS gamut. "Converting someone from a PMS mindset to a digital mindset is an insurance policy. They know that every time that get printed on a G7 certified printer they're going to get the exact same color from the first sheet to the last so press checks are irrelevant and slow down the process."
Brown-McNally wrapped up the two-day PX Summit with a presentation about "Escapades in Digital Print." She provided a variety of examples of how major brands are using digital through personalization, versioning and other techniques to create a moment of engagement for consumers and drive sales for the brand owner.
"Studies show that people are willing to pay anywhere from 42% more for items that are personalized and/or creatively done," she said.
Digital is also a way to promote particular social issues, which resonates with the younger generation. "In the world of the millennials your value statements can no longer reside on a back page of your web site. They want to see what you stand for every single day on your product. They want to see that you stand for environmental stewardship."
Digital is also a way to promote particular social issues, which resonates with the younger generation. "In the world of the millennials your value statements can no longer reside on a back page on your web site. They want to see what you stand for every single day on your product. They want to see that you stand for environmental stewardship."
The BoxMaker's HP PageWide C500 press has been running production jobs for about two months.