The team, from left, Andrew Harris, Steve Pastoor, Tim Harris and Brad Albright
As digital printing gains a firm foothold in the U.S. packaging market, a group of entrepreneurs has partnered to start up a highly specialized company dedicated exclusively to digitally printed corrugated sheets. Centrally located in Grand Rapids, Mich., ColorHub's core mission is to help box plants grow their businesses without having to invest in the technology. The three owner partners are Tim Harris, CEO, his brother Andrew, Chief Marketing Officer, and Steve Pastoor, Chief Operations Manager. Brad Albright, who was previously the President and CEO of Touchpoint, an independent sheet plant, is the Director of Business Development.
Tim Harris, who previously sold corrugated for Mall City Containers, a Michigan independent, says digital printing has always intrigued him and was inspired by a YouTube video of a high-speed single pass digital press. Seeing the technology set in motion two and a half years of intensive research and planning, culminating in the startup of ColorHub.
The company's capital equipment investments are impressive and to date have totaled more than $7 million. The flagship machine is a 50-inch Barberán Jetmaster 1260 high-speed single pass digital printer. This was the machine that convinced Tim Harris and the other partners to re-focus their career paths. "Single pass digital is what our business model is based around," he says. "The value that provides to customers is speed and cost savings."
The plant also has an EFI VUTEk HS125 Pro UV flatbed digital printer, an Elitron Kombo SDC plotter with integrated CAD/CAM system, an Elitron Kombo TAV, one of the first to be installed in the U.S., and 66-inch and 86-inch Xtracut rotary diecutters.
A Better Option
The equipment facilitates fast turnaround, less than 72 hours, for high-end graphics displays and packaging. This turnaround, which would be next to impossible on conventional equipment, provides box plant customers an alternative solution that addresses their customer's graphics and speed to market needs.
"When you look at the typical sheet plant, at least in the Midwest, all of them have a higher percentage of brown box as their business mix. Some dabble in graphics, but those companies are never going to see the return on investment necessary to justify that type of equipment purchase," Albright says. "Our goal is to help them grow the graphics segment of their business over time by utilizing our capabilities and service."
Albright offers first-hand insight into the production of high-end graphics. "I know what sheet plants go through day to day and the trials and tribulations they have trying to convert graphics, whether it's litho-lam or high-end post-print flexo," he says. "We've had a phenomenal reception from everybody we meet with. We've discussed how ColorHub gives them access to graphics capabilities that they wouldn't have had or didn't have before and how they can use their existing equipment to convert it."
"I think that actually eases their minds," Tim Harris adds. "A lot of people are in this mindset right now where they need to have the ability to digitally print, but what does that mean, invest $1.5 or $2 million in a low volume production press? Now they don't need to do that."
Tim Harris emphasizes that ColorHub is not a box plant's competitor. "We will never go around them to sell to their end customers."
Although Andrew Harris and Steve Pastoor are new to the corrugated industry, they both bring a valuable set of skills from previous careers. Andrew Harris ran the operations for a commercial interior design firm and Pastoor spent 20 years in the food industry running a coffee and nut company and has purchased a lot of corrugated. "In that world obviously I had to deal a lot with packaging and that is what got me excited when Tim started talking to me about this technology because I could see first hand how that could benefit me in what I was doing," he says.
One example is holiday packaging for nut containers. Pastoor says he would have loved to be able to purchase individually printed boxes in small quantities of 500 to 1500. "The cost of that with printing plates and setup time was so huge that you would have to run four years worth of volume in order to make it cost-effective. It was a major frustration because you would have all this inventory in your warehouse and after two years it needed to be updated and you ended up throwing it away."
He says digital printing is considered game-changing technology in the consumer products market. "There are no printing plates, you can change art files on the fly, you can gang similar box shapes together and run 500 of each in a single run. It breaks down a lot of those old barriers."
State-of-the-Art
The Barberán Jetmaster is one of the fastest corrugated digital printers on the market and can reach speeds of up to 50,000 sq ft per hour. ColorHub recently added a stacker from NE Engineering to the machine. The press is six-color process and can hit about 90% of the Pantone spectrum. It prints UV inks on any type of paper, even testliner or recycled, achieving an excellent printing quality. Inks are purchased from Toyo. "With the aqueous primer and the way the ink is cured, the Barberán produces a really glossy sheet on mottled white," Andrew Harris says. "Kemi bumps up the gloss even more."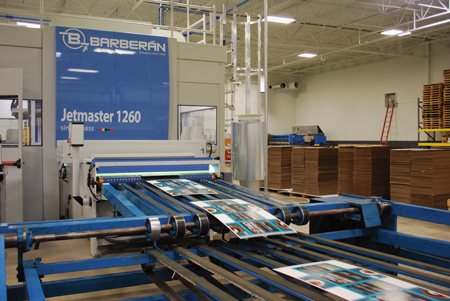 The VUTEk flatbed digital printer has a maximum width of 127 inches, prints seven colors, including two channels of white, up to 125 boards an hour. It bridges the gap for the small percentage of jobs that the Jetmaster is unable to run. "It covered the roughly 10% of the amount that we wouldn't be able to run on the smaller press," Tim Harris says. It can run roll to roll as well as sheets on rigid and flexible materials up to 2 inches thick. Print resolutions range from 600 to 1000 dpi.
The Kombo TAV is said to be the only cutting solution that has a completely motorized roller system allowing for a fully automated and integrated workflow. The dual beam TAV has a cutting area of up to 126- x 86-inch. Specifically designed for the corrugated industry, the machine automatically recognizes the images and reference points, communicating to the cutting head what and where it has to operate. It features "Airo Panel," which is a solution for automatically unloading materials using a powerful suction panel to remove the sheets from the working area.
The Elitron systems were purchased for smaller volume orders, although Albright points out that he just quoted a project for a display that had 5000 components. "It's efficient for short run business or orders that are going to run one time and never repeat," he says. "It also provides an option for customers who don't want to introduce the sheets into their existing workflow and use their traditional equipment to convert it. We're looking at a lot of different opportunities and scenarios that surprised all of us in terms of what's going to end up running on the machine."
"Our initial thought was no converting," Tim Harris says. "At the time that we were setting up, the best way to describe ourselves to people was 'Digital sheet feeder without producing the sheets.' We do convert for people as needed. That really developed out of talking with some people in Europe who only do work for the trade and how their business has grown, but ninety plus percent of everything we do will be converted by our customer."
The production area takes up about half of the 30,000-sq-ft facility on Kraft Ave. in Grand Rapids. The remaining space is dedicated to administrative offices, fulfillment and shipping. The company does not plan to warehouse product. "We're one step removed from the end-user. We only sell to the trade. So we don't need to inventory because the box plant is already inventorying for their customers," Tim Harris says.
Automated Workflow
The partners researched front end workflow software for a year and a half before deciding on a customized MIS system. "Software developed for the printing industry doesn't really fit what we do. We are moving forward with a system that we think will work really well, but it will be a process of custom developing it to meet our needs," Andrew says. "The hardest thing is data intake and sanitation. That's how one of our team members puts it. She is a data sanitizer — receiving data, sorting through it, understanding what is relevant and how to communicate that to the rest of the team. Our MIS system will help to organize that."
In one sense, ColorHub will act as the customer's prepress house. Albright points out that ColorHub's value add is more than just supplying a digitally printed sheet. The goal is to understand what the customer's needs are in terms of graphics and their capabilities. "This is different from labels where they get a label price or a plate price for flexo and try to achieve their customer's goal using those technologies. Our focus is, 'How do you introduce digital, where does it fit, how does it fit and how do you include us in that entire process?' Beyond that it's working with their sales teams to communicate that with their customers and designers.
"It's really hard for them to step outside that mentality that they've had for years and the limitations that exist with other analog printing processes," he adds. "The first step is getting them to understand that there are no limitations in terms of graphics. Whatever you want to print on that structure you can print on it digitally."
Rapid Startup
ColorHub ran its first job in May and is quickly establishing itself in the market. The partners expect to generate a profit within 12 months.
The company currently employs 11 people and is already short staffed. "That's the crazy thing about digital," Tim Harris says. "Two and a half years ago, nobody talked about digital. People thought I was crazy and said, 'We're still a long ways off from that.' Now it's the only thing we're talking about. We're having special conferences just for the subject of digital."