Over two days in November, Lic Packaging's 45,000 sqm plant on the outskirts of Brescia, Italy, welcomed not only Lic's own cusotmers, but also 160 HP customers from seventy different packaging companies across the globe. These visitors saw the new HP PageWide C500 press digitally printing both primary and secondary packaging for the food industry, along with other applications — and also heard a range of presentations covering the issues that corrugated packaging producers face when starting out in digital print.
Guest speaker at the event was Ted Samotis from Georgia Pacific, who explained, from first-hand experience, some of the main challenges. The take-away thought from Samotis' presentation was that "Nobody has come back and said we'd like to do it how we did previously."
The new press at Lic Packaging is HP's second C500 installation worldwide, following its commercial launch earlier this year. Two further presses have been installed, in the USA and HP says it has a backlog of pre-orders for both 2019 and 2020. Lic Packaging are keen to make the most of their early-adopter status. "We held an event yesterday just for our own customers," said Piero Bertoldo, the company's President. "The reaction when they saw the work coming off the C500 was 'Wow!' And then, after that, they said 'Now we have to think about the things we can make with this machine.' "
It was a response that clearly pleased Bertoldo, who says that over the coming months, the company will be working with their customers to explore ways for them to exploit the capabilities of the HP PageWide C500. This, he expects, will not just involve short runs, but also longer runs with continuously varying text and/or graphics. "I think this is a very interesting area for them," he says.
Lic's customers from the display and packaging industries were the key drivers behind the company's investment in digital. "In 2015, the market started asking for digital printing," recalls Bertoldo. "We went out and looked at the options available and felt that HP could be both a machinery supplier and a development partner." As the C500 was not quite ready to launch at this time, Lic Packaging purchased a Scitex 15500 to allow them to get into the technology. "We actually couldn't wait to experience digital," says Bertoldo.
Food industry compliance
The Scitex 15500 uses UV inks, so it was Lic Packaging's display and non-food packaging customers who were to benefit most from this investment, rather than its many food and pharma industry clients. At the open house, Xavier Melisse, HP's 'Inkologist', explained the reasons for this. "With UV, 90% of the ink stays on the board and, because we have to give time for curing, it will migrate towards the other side of the substrate." This is not a particular worry for display work, but does make UV digital unsuitable for most food and pharma applications.
Lic Packaging's second digital printing investment - the PageWide C500 press that was installed over the summer - uses HP's water-based digital inks, which contain no reactive chemistry components and are 90% water. This water evaporates quickly, preventing migration of the ink components, even on thinner substrates such as E and F-flute. The result is that packaging printed using these inks is compliant with food industry requirements for primary and secondary packaging, including the Nestlé guidance and the Swiss Ordinance, among others.
For Lic, an ink solution that could meet the needs of their food packaging customers was essential and three other factors drew them to the C500: its accuracy of register; its ability to cope with 'real world' corrugated board; and its printing abilities. "The quality of the printing is close to offset and our customers are happy with this," says Bertoldo. He has been particularly impressed with the C500's 'Corrugated Grip' top-feeder. "We produce a lot of small flutes and, in my opinion, this system is excellent."
Two other technologies makes the C500 ideal for corrugated packaging, says HP's Niv Ishay. "Its Virtual Belt system means we have accurate media motion, down to +/-10 microns, so each drop of ink goes where it is required. Then our thermal inkjet printing system has around a million nozzles, with six-times redundancy, for high and consistent print quality." Board being printed on the C500 needs no pre-treatment, a bonding agent being applied in just the areas to be printed. "With the C500 we can print on coated or uncoated board and the result is the same," adds Bertoldo. "The market is asking for natural-looking products and uncoated board gives us this look."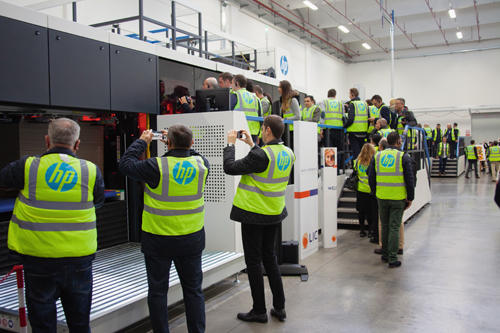 Investment continues
Established in 1952, Lic Packaging today has a turnover of €87m and is jointly run by Bertoldo and his sister Cristina, the Commercial Director. Together they have continued their late father's legacy of continuous investment and innovation. In 2001, Spain's Saica Group bought a 20% share in the business. With two corrugators from BHS Corrugated, twin KBA offset presses, Bobst and Göpfert HD-flexo printing and a raft of case making, die-cutting and folder-gluer kit from Bobst, Göpfert, Emba and others, the plant's 170 employees produce and convert over 130 million sqm of board a year. The product range and customer base are wide, including many international and regional brands, as well as local customers.
Investment continues at Lic. The dedicated production hall housing the new C500 will soon be home to a specialist corrugated board plasticising line. This will allow display work to be run on the press —the market for in-store display units demanding that their products have protection from splashes once in retail environments.
It is early days for the C500 project, says Bertoldo, who deliberately did not plan for the line to deliver any sales turnover in 2018 — this always being the objective for 2019 when a substantial production ramp-up is envisaged. But does this investment in digital printing mean that the days are numbered for Lic Packaging's litho-lam and flexo lines? No, says Bertoldo. "We don't plan to cannibalise flexo or litho-lam. This is about opening up new opportunities and also about helping those other processes be more efficient by moving away the short run jobs. Yes, with digital there are no clichés and set-up time is short, but the ink is much more expensive, so the cost of printing digitally is similar to litho-lamination. This investment is all about the new opportunities it can bring to our customers."