"You have to embrace change," Howard Bertram, President of Complete Design & Packaging (CDP), says. And oh, how CDP has changed since opening its doors on April 1, 2002, just seven months after 9/11. The irony of starting a business on April Fools in a terrible economy was not lost on Bertram, who had been working in the corrugated industry since 1988. With a wife and two children at the time, Bertram remembers thinking, "What have I done?"
He rented space in the 120,000-sq-ft facility that he and his business partner, Scott Sumner, CDP Vice President, now owns in Concord, N.C. and purchased some equipment. To be successful, he knew that he had to focus on sales and a brand image so he invested in ArtiosCAD and BoxPro business software from Hyperware, which is now Amtech Imaginera. "I wanted to be able to deliver quality samples and a professional looking quote. I was trying to create an image," he says.
Sixteen years later, Bertram remains devoted to that philosophy of professionalism and high quality, especially as it relates to printing. He refers to CDP as a "boutique" plant with its focus on high-end graphic packaging and P-O-P displays. The company can flexo print up to six colors and for several years has provided short run digital printing and prototyping on a CET Color multi-pass flatbed inkjet printer.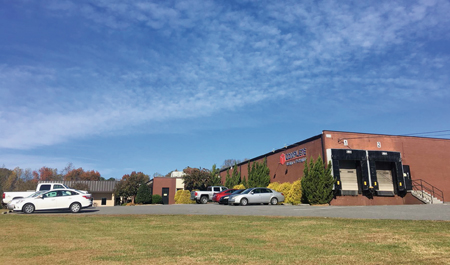 Lifestyle Improvement
Late last year Bertram and Sumner, CDP Vice President, embraced change in a big way with the installation of Electronics For Imaging's (EFI) high-speed Nozomi C18000 single pass digital press, the first in the U.S. The six-color 71-inch wide press prints up to 246 linear feet per minute with throughput up to 6600 2.6- x 3.3-ft boards per hour. CDP customers will benefit from the press's capabilities to produce a wide color gamut with its six-color inkset, plus a white ink scheduled to be released shortly after the press is installed. CDP will be the first to be running white ink on the press. The LED imaging capabilities provide brilliant, accurate color imaging on a variety of board substrates, although Bertram and Sumner have favored Kemiart liners for most of the digitally printed jobs.
Bertram says there are several reasons why they chose the Nozomi. For one, they liked the fact that the press was an all-in-one solution. "We didn't want open markets on certain things, for example ink, primer, and the stacker," he says. "I've been in the business long enough to know that people start pointing fingers if things don't go well. The priority right now is making that machine hum. If I'm using someone else's ink I don't want to have any issues because the price is cheaper.
For the immediate future it's important to keep control of all these variables that will affect the end outcome. We're the same way on the flexo side. We're very committed to our vendors because of quality. That's all we have. Everybody has equipment. All we have is our quality and our people."
Left to right: Scott Sumner and Howard Bertram.
The press provides high-quality output with resolutions up to 360 x 720 dots per inch with four-level grayscale imaging. A 100% in-line inspection system is tied to robust print optimization technologies, including inkjet nozzle, alignment and uniformity correction. The permanent head architecture eliminates the downtime associated with replacing consumable printheads.
CPD has converted much of its existing litho business and some flexo jobs to digital. "We can digitally print just about anything that was a label, but laminating still has a future," Bertram says. "As beautiful and great as it is, digital is not litho."
With the elimination of multiple setups, the Nozomi has significantly reduced waste. Multi piece displays can be digitally printed on one sheet in the exact amount needed. "It has been a phenomenal lifestyle improvement. We're eliminating handling and the wait for tooling and our speed to market is faster," he says.
The press is equipped with the EFI Fiery® NZ-1000 high-performance digital front end (DFE). CDP has added personnel to support the new press, especially in pre-press. "That has been a huge learning curve for us," Bertram says, adding that having digital printing capabilities for several years has provided a good foundation.
"We've been a low-level digital printer for six years and a high level direct printer for many years so it's not a foreign subject to us."
Also relying on fellow-independents that have digital printing capabilities has helped. Bertram and Sumner speak volumes about the coaching provided by Abbott-Action, a Massachusetts plant that has a new high-speed digital press. "They have been like a big brother," Bertram says. He would like to one day return the favor and help other corrugated plants.
Bertram and Sumner have been impressed with the technical support that they have received from EFI. "It has been a pleasure dealing with the EFI people," Bertram says. "If we have any kind of issue, they're here. We didn't want to be left with something that we didn't know what to do with. It's so new and different."
"We feel like this is a good machine and a good partnership," Sumner says. "I felt good about the fact that we were not doing this on our own. EFI is in here with us and helping us."
'Slow and Steady'
For years, CDP has flown low under the publicity radar, however the Nozomi has changed that. "The digital capacity that we have brought in has been very exciting. We have had so much attention," Bertram says. "Digitally printed products have been the easiest sell. I've always felt like we do a good job but you're always bringing the same stuff to the table. Everybody has diecutters and gluers and other equipment, but this machine and the digital technology have really struck a chord."
On Abbott-Action's advice, CDP is taking it "slow and steady," careful not to over-commit while still ramping up the machine. "Scott and I want to come out of the gates stellar. Even if we don't sell that much initially, we want it all to be as near perfect as possible," Bertram says.
Training the sales reps to sell digital has been a work in process. "There is no manual for it," he says. EFI has provided some assistance. "EFI is big and deep. They've got video, they've got marketing, they have the resources and are open to sharing."
The company is still polishing its sales pitch. "We are not telling customers, 'We've got another way to quote.' It's not an alternative price choice necessarily. We use it where it makes sense," Bertram says, acknowledging that sometimes digital is a less expensive option and that is often what sales people want to sell, but "that's not its purpose in life. We as independents need to stay nimble, flexible, creative and even though Complete Design has been flying pretty stealth all these years, we have a lot of capabilities. People are shocked when they come here."
Indeed, the plant is chock-full of equipment, many of which was the first of its kind in the U.S. "We didn't look like this 15 years ago. You could arguably say we've only been around five years, if you look at the ramp-up," Bertram says.
"Every single year we've added at least one machine if not two. I like equipment," Bertram says, adding that this year CDP will likely add a new high-speed CAD table.
"We've stretched our dollar. We've done our homework and chosen what we think is quality equipment and now we bought a Ferrari. Everybody here is so proud to have it in the building. We're not abandoning anything we're doing. We're adding this to enhance our company and become more nimble," he says.